In Hurry? Read The Script of The Video Below:
Hi, firstly, congratulations on getting the CB Passive Income License Program!
Before you get started, would you like to upgrade your purchase to the CB Passive Income Pro version so that it will automatically build another list on its own and potentially "double" your profits too?
Here's How It Works…
Basically, when you promote your CBPassiveIncome's Unique Link, it'll send them to your "secret webpage".
Upon subscribing, they'll be added into the CBPassiveIncome System's list where it is 100% turnkey for you – we'll manage everything for you from here; from providing content to promoting varying Clickbank offers so that you'll make commission from them.
Of course you can log into the back-end system at any time to retrieve all of their emails accordingly, but would you want them to automatically be added into YOUR OWN autoresponder as well?
With the CBPassiveIncome Pro version, when the visitor initially subscribes, they'll now be added into 2 separate lists:
i. Into the CBPassiveIncome System's list so that we can monetize them for you
ii. Into your own unique and personal list.
This way, you will also be building your own list where you could be promoting ANY other offers to them! It doesn't need to necessarily be Clickbank offers anymore, ANYTHING that you would like to promote.
For instance, let's say you found a product that you really like and it offers an affiliate program. You could join that and promote it to your "personal list" to make even more money!
Simple Summary…
WITH PRO VERSION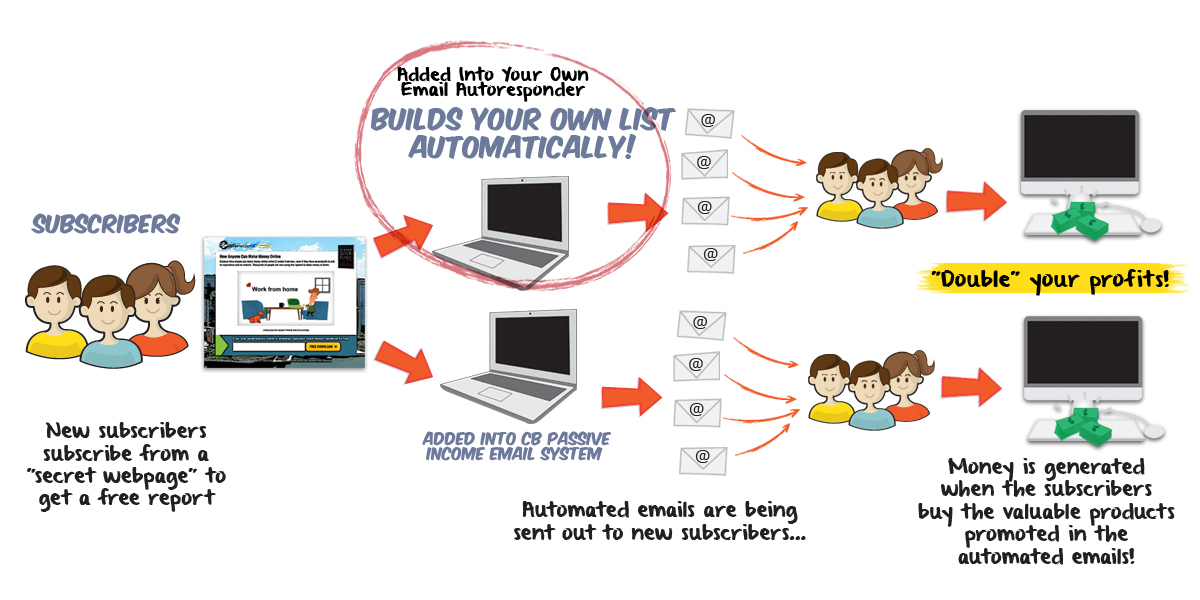 WITHOUT

 

PRO VERSION!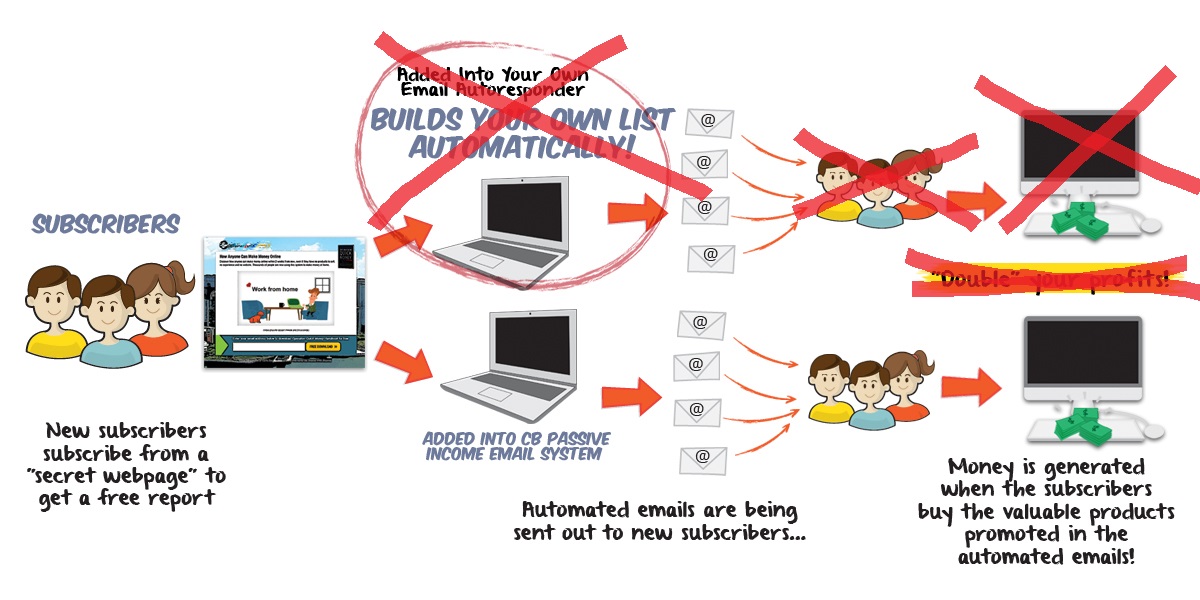 You'll "Lose Out" Building Another "New" List and The Additional Income Streams WITHOUT Pro Version!
Next…
Want to easily make EXTRA income completely on its own?
You see, the secret of selling successfully through emails is applying a strategy which I affectionately call "campaigning".
Campaigning basically means choosing a product to promote and subsequently "campaigning" it to be promoted effectively. More importantly, profitably.

"Get The Full Rights To Use My Email Marketing Campaign!"
I'll give you the rights to use my own unique "campaign" that I've used and am still using to promote high ticket products; where you can earn as much as $300 per sale!
So by just getting just a sale, not only will you be able to cover your entire investment for the Pro version, you would already be in sheer profit! This is pure plug-and-play.
Just add my email campaigns into your autoresponder and you're good to go!
And of course, with the Pro Version, you'll be building 2 lists at the same time.
When you sign up today, instead of charging a monthly fee, your investment is only a ONE-TIME affordable investment of $97 – never pay again!

Just like the CB Passive Income License Program, the Pro Version also comes with a 100% money back guarantee throughout the next 60 days. Frankly, there's really no reason for you not to upgrade – you simply can't lose with my money-back guarantee.
If you upgrade today, you're going to easily "double" your profits and grow your internet business even FASTER.
Some quick Q and A's…
Q1. What autoresponder service will it be compatible with?
A1. It'll be compatible with almost all of the major autoresponder services out there like Aweber, GetResponse, etc but not with Mailchimp. Please note that the Pro version will add the subscribers into your OWN autoresponder – you'll need to have an autoresponder service. If you do not have, it is okay, we'll provide the instruction on how to register for one.
Q2. What should I email to my own list?
A1. You can email *anything* you like to them!

But at the same time, we've provided the swipe file of emails that you can add into your autoresponder so that it can automatically provide content to your subscribers.
To upgrade, just click on the Upgrade Button located on this webpage.

Disclaimer – Terms Of Use – Privacy Policy – Affiliate Program – Member Login – Contact Us